Our team of dedicated experts
is comprised of immigration lawyers and experienced consultants that each bring a variety of unique experiences to their work and they are supported by a team of hardworking administrators and clerks, who make valuable contributions to our law firm 's success. We are versed in many different languages and we are proud that we are able to assist the majority of our clients in their own language.
Barrister and Solicitor, Certified by the Law Society of Upper Canada as: A Specialist in Citizenship and Immigration Law and a Specialist in Refugee Law
Chantal Desloges is certified by the Law Society of Upper Canada as a Specialist in both Citizenship/Immigration law and Refugee law. Her practice focuses on Canadian citizenship, family sponsorships, temporary residence, refugee cases, humanitarian and compassionate requests, residency obligation advice, inadmissibility, plus Appeals and Judicial Reviews of refused cases.
Chantal was called to the Bar in 1999. She now leads her own law firm  in downtown Toronto.
Chantal taught Immigration Law at Osgoode Hall Law School in 2000/2001. She served as in the Seneca College Immigration Practitioner Certificate Programme from 1999 – 2010. She taught for several years at Herzing College.  She currently teaches current and aspiring immigration consultants at both IMEDA and LPEN.  She is currently assisting Queens University Law School in developing its curriculum for its Graduate Diploma in Immigration and Citizenship Law. 
In 2012, Chantal was awarded the Queen's Diamond Jubilee Medal, followed by the Canadian Bar Association Young Lawyers' Pro Bono award. In 2013, Chantal was appointed by the Minister of Justice to serve on the Federal Court Rules Committee, and was reappointed for a further term in 2016. In 2014, Chantal was elected to the Executive of the Canadian Bar Association, Immigration Section, where she continues to serve.
In November, 2016, Chantal and her good friend Cathryn Sawicki published a law book called Canadian Immigration and Refugee Law: A Practitioner's Handbook, available for sale through Emond Publishing.  The book is now in its 3rd edition. 
Chantal has been called upon dozens of times by Parliamentary and Senate Committees to appear as an expert witness on immigration and refugee issues.
Chantal is the past Chair of the Board of Homes First Foundation, an organization dedicated to providing supportive housing in Toronto for severely marginalized individuals with the fewest housing options.
Chantal is a regular immigration commentator on CTV News, and has been interviewed by both national and local television stations such as CBC, W5, CTV YourMorning, Global News and CP24. She has also been interviewed and quoted in national and local newspapers such as the Toronto Star, Toronto Sun, Globe and Mail, National Post and the Ottawa Citizen.
Twitter: @Twimmigration
Andrew Carvajal is the Head of Economic Immigration as well as the Area Leader of our Latin America (LATAM) Group. He received a Bachelor of Arts, Master of Arts, Bachelor of Laws and Bachelor of Civil Law from McGill University. He was called to the Bar of Ontario in 2011.
Andrew's immigration practice focuses on all types of business immigration, including work permits and Labour Market Impact Assessments (LMIAs). He also assists professionals and entrepreneurs in permanent residence applications under federal and provincial economic programs. His team also prepares applications for study permits, visitor visas for leisure and business trips and other permanent residence and citizenship applications.
Andrew also represents professionals in disciplinary matters, including Immigration Consultants in complaint and discipline proceedings before their regulatory council.
​Outside of his work at Desloges Carvajal Law Group, Andrew is passionate about teaching and has been an instructor in immigration consulting programs as well as a guest speaker in a number of immigration seminars organized by CPD providers, professional associations and community centres. Since 2019, he has been the Curriculum Director of the Legal Professionals Education Network (LPEN), as well as instructor in many of its corporate immigration courses
Andrew is also a frequent contributor to several publications dealing with immigration, refugee and administrative law and has been invited to speak about immigration changes on local and national news segments. As a native Colombian, Andrew is fully fluent in Spanish and he is an active member of the Toronto Hispanic community, as well as past President of the Canadian Colombian Professional Association.
Samuel is the Head of Litigation at Desloges Carvajal Law Group. Samuel represents clients before the Federal Court and Federal Court of Appeal. Samuel also represents clients in immigration and refugee appeals, and complex inadmissibility matters.
Samuel offers a variety of litigation support services for lawyers, with a particular focus on digitization and Federal Court e-Litigation. Samuel works with lawyers to help them digitize their litigation practice and find efficiencies using technology. Samuel also collaborates with other lawyers as co-counsel or as a litigation consultant.
Samuel is a member of the Canadian Association of Refugee Lawyers, the Refugee Lawyers Association, and the Canadian Bar Association.
Samuel is a regular presenter and instructor at professional development courses for lawyers and immigration practitioners.
In 2015, Samuel received the Canadian Bar Association Immigration Law Section Founders' Award, given to a young lawyer "for achieving professional excellence, providing leadership, and making a significant contribution to the Canadian citizenship & immigration community."
Samuel and his family moved to Italy when he was four years old, and they split their ten years there between a small town in Tuscany and mainland Venice. As a result, Samuel enjoys cooking (and eating) Italian food and traveling. Samuel is also an avid cyclist.
Howard Eisenberg, B.A., LL.B., CS – Associate
Barrister and Solicitor (ON)
We are pleased to introduce our new Associate Howard Eisenberg, B.A., LL B, CS.  Howard is a Certified Specialist in Immigration and Refugee Law, having been involved in the field for nearly 35 years.  He formerly ran his own practice Eisenberg Law in Hamilton ON and was a partner with Eisenberg & Young. 
Howard's areas of interest include Refugees, Humanitarian Applications, Appeals and Applications to the Federal Court, with a particular emphasis on challenging situations. Howard is a Member in good standing of the CBA/OBA Immigration Section, The Refugee Law Association, The Canadian Association of Refugee Lawyers and the Hamilton Law Association, having participated in numerous conferences.  Howard has close contacts in the Hamilton area with different stakeholders and immigrant communities, where he still resides with his family.  He is very active as a volunteer in Hamilton and has sat on numerous boards promoting anti-racism. In his spare time, he enjoys time with his family, different sports, reading, current events and music.  To book a consultation with Howard, please contact our office.
Michelle Bowlen, B.A., J.D.
Michelle is a senior lawyer with the Economic Immigration team offering services in
English and Spanish. Her practice focuses on all types of business and economic
immigration, including work permits, study permits, Labour Market Impact Assessments,
and permanent resident applications. She has a particular interest in the outdoor and
hospitality industry in Western Canada.
Michelle received a Bachelor of Arts degree from Wellesley College and was awarded a
Fulbright Scholarship to travel to Colombia upon graduation where she developed a
strong interest and connection to Colombia and Latin American culture. She returned to
the North America to complete law school at the University of Washington and was
called to the Bar of British Columbia in 2013. Her first foray into immigration matters
was sponsoring her Colombian husband to immigrate to Canada.
Passionate about the small-town mountain lifestyle and outdoor adventure, Michelle
took a less traditional pathway for her professional career and set up a virtual solo
immigration practice in Revelstoke, BC. She ran her own business for 7 years,
representing both businesses as individuals, until joining Desloges Carvajal Law Group
and the LATAM team in 2023. Michelle now splits her time between Colombia and
Revelstoke, BC and is excited to be providing a Western Canadian presence for
Desloges Carvajal Law Group. In her spare time, you can find her mountain biking,
skiing, or hiking with her family.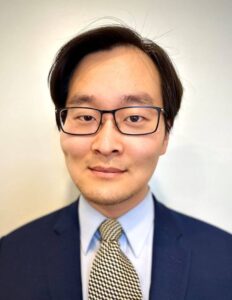 Chun He, J.D., B.Ed., S. Sc.H.
Chun is an Associate Lawyer at Desloges Carvajal Law Group's Litigation Team. Chun assists clients across a variety of matters before immigration tribunals and the Federal Court. He received a Bachelor of Science and a Bachelor of Education from Queen's University, and a Juris Doctor from the University of Ottawa.
Prior to joining DCLG, Chun articled at another boutique immigration law firm. He was also a research assistant at the Refugee Hub where he supported federal court litigation and worked on refugee sponsorship and resettlement initiatives.
Before pursuing a career in law, Chun explored many other opportunities to serve in his community. He is a certified Ontario High School teacher and worked as the training and volunteer coordinator at a neighbourhood drop-in centre.
Chun immigrated to Canada with his family as a child and speaks Mandarin Chinese. In his spare time, Chun enjoys painting, cycling, and reading quarterly print magazines.
Consultants and Administrators:
Rupal Rokhit, B.A. (Hons.)
Regulated Canadian Immigration Consultant (RCIC) Member of the CICC ( College of Immigration and Citizenship Consultants) Membership number R509181
As a Regulated Immigration Consultant with over 16 years of experience in Canadian Immigration, Rupal is responsible for all types of temporary and permanent residence applications for her clients. She also manages citizenship applications, PR Card renewals, and various appeals filed with the Immigration and Refugee Board. Rupal joined Chantal Desloges Professional Corporation in August, 2010.
Prior to joining Chantal Desloges Professional Corporation, Rupal was an Immigration Case Manager at a leading law firm, Green and Spiegel, for over five years.
Rupal's clients benefit from her experience at the Canadian High Commission, New Delhi, India. Rupal held roles as Immigration Case Analyst and Program Assistant with the Canadian High Commission in New Delhi, India for over five years. In these positions, Rupal gained extensive experience in assessing and evaluating immigration cases for all categories in accordance with the Canadian Immigration and Refugee Protection Act and Regulations. Rupal won an Award of Excellence for outstanding performance as an Analyst in 2002-03.
Rupal brings a unique blend of knowledge of the immigration process from both sides of the table. Clients benefit from Rupal's keen insight of the Immigration procedures.
Rupal is multilingual (English, Hindi, Punjabi and Urdu), and graduated with Honours from Humber College in Immigration and Refugee Law. Rupal also holds a Bachelor of Arts (Honours) in Economics from University of Delhi.
Ani Khachatryan, B.A., M.A.
Regulated Canadian Immigration Consultant (RCIC) Member of CICC ( College of Immigration and Citizenship Consultants) Membership Number R515669;
Office Manager
Ani is a graduate of Immigration Consultant Program at Herzing College in Toronto. Ani holds a Master's Degree of Philology in English language and Literature from Yerevan State University in Armenia. Ani speaks Armenian and Russian.
Ani has many years of experience in immigration matters and has profound expertise in areas that include temporary residence, family class sponsorships, citizenship applications and much more. During her extensive time with the DCLG, she had an opportunity to encounter and deal with some of the most difficult and complex cases, which allows her to tackle with a great degree of success even very unusual and challenging applications.  
In addition to her work with clients and applications, Ani is also the acting office manager of our team, organising the workflow in the office, keeping track of the lawyers' work and their deadlines and ensuring that all the client's questions are properly addressed by our team.
As Litigation Assistant for the Litigation Team at Desloges Carvajal Law Group, Dominic (or more commonly referred to as Nico), utilizes his strong interpersonal skills, extreme attention to detail, and ability to adapt to manage efficiently and effectively the high-volume of cases and clients. Dominic also draws from his personal experience of having sponsored and immigrated with his wife and two children from Ghana, West Africa. This allows him to bring an invaluable level of motivation, compassion, and empathy to his work and interactions with clients. He understands that immigration is a journey and counts it a privilege to be able to work with and help those seeking to start a new life in Canada.
Office Manager (Bogotá, Colombia)
With over 8 years of experience in professional office executive assistant positions and a track record of strong performance in high-volume, high-pressure environments, Mercedes skillfully manages administrative duties and client relations for her colleagues at DCLG Latam.
As an Office Manager of DCLG LATAM, she ensures the smooth operation of the firm with her robust knowledge of law office management and efficient handling of client inquiries, consultations, and timely access to lawyers as required. Mercedes also provides support to the lawyers in fulfilling their ongoing professional development, training workshops, and seminar presentations, helping developing marketing projects to elevate DCLG Latam brand throughout the region.
Alan Choy, B.Com., M.B.A.
Regulated Canadian Immigration Consultant
Alan is a graduate of the Immigration and Citizenship Law Diploma Program from Queen's University. Alan also holds a Master of Business Administration degree from York University, Schulich School of Business, and a Bachelor of Commerce degree from University of Toronto.
Before residing in Canada, he has relocated to a few other countries and developed a passion to assist immigrants. Furthermore, Alan's previous work experience prepared him to handle multiple deadlines under stress with efficiency. In addition to English, Alan speaks Cantonese and Mandarin.
Rachel Gador is an Articling Student at Desloges Carvajal Law Group in Toronto. Rachel assists clients with all aspects of immigration law in Canada. She has a particular interest in Humanitarian and Compassionate Permanent Residence applications and Federal Court litigation files.
Rachel recently graduated from Osgoode Hall Law School with an academic average which placed her within the top 4% of her graduating class. During law school, Rachel volunteered with immigration and refugee law organisations and tailored her course selection toward immigration law, refugee law, and international law. Rachel spent her 1L year volunteering at The 519 legal clinic, an organisation that provides summary legal advice and information tailored toward Toronto's LGBTQ+ population and, specifically, newcomers to Canada. Rachel served as co-president of the Osgoode student chapter of the Canadian Association of Refugee Lawyers (CARL) for two years, helping educate the school and broader community about migrant issues. Rachel also completed Osgoode's Immigration and Refugee Law Intensive Program, which included a placement at Desloges Carvajal Law Group. During her 2L summer, Rachel worked at a large immigration law firm in Toronto and worked on a wide variety of files, including spousal sponsorship applications, PRRA applications, business visitor applications, and COVID-19-related travel applications.
Prior to entering law school, Rachel graduated with a Bachelor of Science degree from Dalhousie University in Halifax, concentrating within the field of psychology.